With seemingly infinite decking options available for savvy homeowners, choosing the right material can be a daunting task. One of the biggest decisions is also deceptively simple: is it better to use natural timber or composite decking materials?
In the past, we've taken an in-depth look at Merbau, a well-known Australian hardwood choice for decks. Today, we're going to delve deep into one of the most popular decking materials around — spotted gum. We'll look at how it's sourced, how it's used, and how it looks. More importantly, we'll see how it stacks up to composite decking boards when it comes to the maintenance needs, appearance, pest resistance, and fading issues that often signal trouble for decks.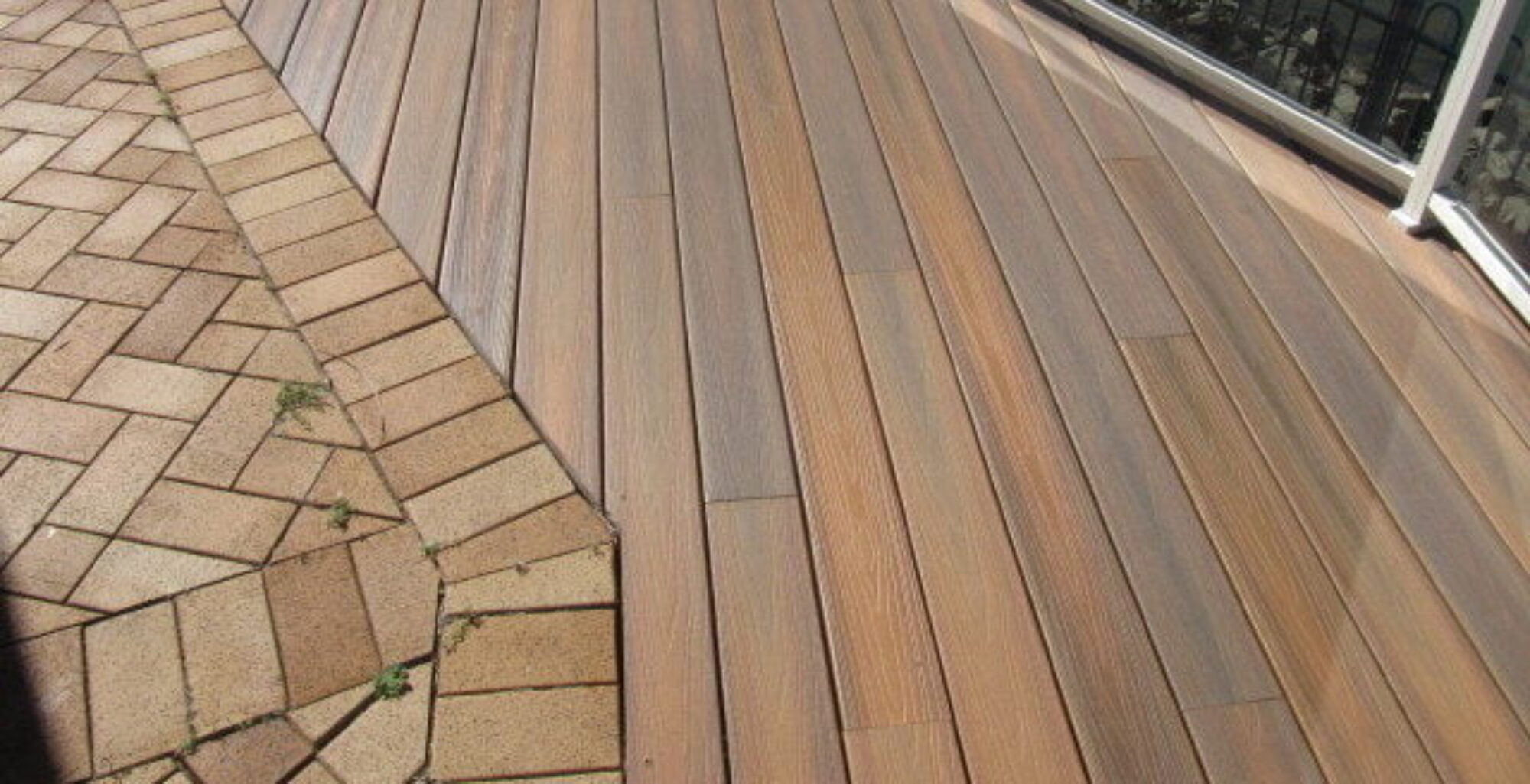 Everything you Need to Know about Spotted Gum Decking
Spotted gum decking comes from a popular Australian hardwood that grows mainly on Australia's east coast, generally harvested fromNew South Wales and Queensland. With trees that can grow up to 70 m in height — but generally average around 45 m — spotted gum timber can be harvested from four different native Australian tree species
What Does Spotted Gum Look Like?
Though the spotted gum tree itself has light coloured bark — usually ranging from white to grey — the decking that's made from spotted gum heartwood is generally reddish-brown to golden-brown in hue. Over time, spotted gum decking will fade to grey. Homeowners and builders are often drawn to the wavy grain in spotted gum decking which produces a characteristic "fiddleback" look.

Versatile Uses of Spotted Gum
Spotted gum is a fairly versatile wood, used regularly in several different industries:
Construction and engineering
Decking and cabinetry
Paper manufacturing
Shipbuilding
House framing
Higher Cost than other Hardwood Options
Though spotted gum is definitely popular with Australian growers because of its ability to conserve water usage in drought-prone areas, it can be risky for growers because it often takes between 30-50 years from planting to harvest. With all this in mind, you probably won't be surprised at the relatively expensive cost of spotted gum. Among hardwood options like merbau, jarrah, and blackbutt, spotted gum is usually the priciest option.
Attributes of Spotted Gum: Pros and Cons
There are plenty of qualities that make spotted gum decking a popular hardwood option. However, there are some characteristics that should make homeowners think twice before taking the plunge. Let's take a closer look:
Tough. Spotted gum is known as a relatively tough and durable choice, with a Janka Hardness rating of 11.
A Degree of Fire-Resistance. In areas known for bush fires, spotted gum that's at least 18 mm thick doesn't require fire retardant treatment.
Low Tannin Content. The relatively low tannin content of spotted gum means that it's less liable to bleed-through and staining than some other hardwood varieties.
Mold & Cupping Susceptible. One major drawback of spotted gum is that it's susceptible to moisture-related issues like mold and cupping. The unattractive concave shaped caused by cupping — not to mention the hassle of mold removal — can be a drawback for many homeowners.
Lyctus Susceptible. Though spotted gum is resistant to termites, it's susceptible to lyctus infestation. Lyctus, a wood-boring beetle, can cause considerable damage to spotted gum wood.
Maintenance Needs. Like other natural timber decking options, spotted gum requires ongoing maintenance in the form of oiling and sealing to maintain its original look.
The Facts on High-Quality Composite Decking
Now that we've looked at spotted gum decking, let's take a look at another option for your decking needs: capped composite decking. Though quality obviously varies by manufacturer, NexGEN capped composite decking adheres to strict and consistent quality guidelines. Created from recycled materials, capped composite decking is composed of two elements: recovered hardwood fibers and UV-stabilized polyethylene. This carefully crafted blend of materials ensures that capped composite decking is stain-resistant, fade-resistant, scratch-resistant, and termite-resistant.
Many homeowners are understandably drawn to the warmth and beauty of natural timbers like spotted gum, but capped composite decking gives hardwood a run for its money. Created to mimic the gorgeous colours and patterns of Australian hardwood, NexGEN's spotted gum composite decking mirrors the warm golden brown colour of spotted gum — without some of the issues inherent to hardwood.
Capped composite decking requires far less maintenance than hardwood options. No need to stain, seal, or expect mold to pop up at any time. Maintenance is simple and requires only soap and water. The antimicrobial surface will last for the lifespan of the decking, which is designed to stand up to a variety of climate conditions.
Spotted Gum or Capped Composite Decking: What's the Right Option for You?
If you're looking for decking options for your home or business, you're probably committed to making the best possible investment for your property. So what's the better option for your needs: spotted gum or capped composite? Let's do a side-by-side comparison:
Appearance.
There's no denying that spotted gum hardwood is extremely attractive, and many homeowners are drawn to the genuine hardwood look. However, composite decking can closely mimic the natural look of spotted gum — complete with a variety of unique patterns that contribute to a natural grain aesthetic.
Maintenance.
Like other hardwoods, spotted gum decking requires staining, sealing, and oiling to retain its luster and beauty. In fact, it's estimated that caring for hardwood decking requires 16-32 hours per year. By comparison, capped composite decking should only need 2-4 hours of your time yearly.
Fade. 
Though some homeowners and builders like the "lived-in look" of faded spotted gum decking, most would prefer that the gorgeous golden brown colour of the wood stick around. Capped composite decking is fade-free and will retain its original looks for years and years.
Insect Resistance.
Remember those wood-boring Lyctus beetles? Though they're often an issue in hardwoods like spotted gum, capped composite decking is crafted to be insect-resistant.
Cost.
Capped composite decking will cost about the same upfront as a hardwood like spotted gum. However, you'll find that maintenance costs can add up over the years with hardwood decking, with hardwood costing hundreds of dollars per year to maintain.
Mold & Cupping Resistance.
When it comes to moisture issues, capped composite decking definitely comes out on top. With resistance to mold and cupping, you can spend less time scouring your decking for issues — and more time enjoying your outdoor spaces.
Environmental Concerns.
If you're concerned about the environmental impact of deforestation and landfill waste, then capped composite decking might be the right choice for you. It's crafted from recycled plastic and scraps from lumber mills — and designed to be toxin-free.
Capped Composite Decking: The Clear Choice
When you consider maintenance, mold resistance, and overall convenience, capped composite decking comes out on top. In addition, NexGEN's decking comes with a warranty you're not likely to find from a hardwood dealer: a 50-year stain and fade warranty and lifetime performance warranty. Ready to learn more, and get started designing the deck of your dreams? Contact us today.