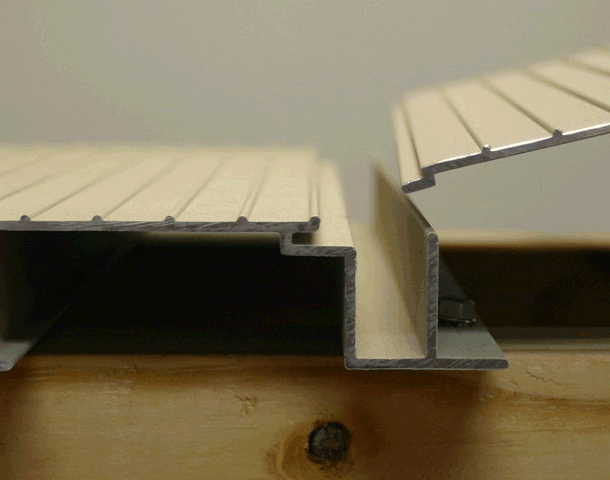 How NexGEN Aluminium Waterproof Deck Works
Innovative 1 Piece Waterproofing Aluminium Deck Surface.
DryDeck is an aluminium deck board with an innovative tongue and groove design that creates a beautiful, low-maintenance, fireproof deck surface. NexGEN Aluminium DryDeck deck boards provide the added bonus of an integrated gutter system for a dry, usable area under the deck. Deck boards fit together in a tight, tongue and groove configuration, forcing most of the water to run off the surface. Any water that gets through the tongue and groove is funneled into the integrated gutter channel, creating a 100% watertight decking surface.
The safe, textured surface naturally stays cooler to the touch than traditional decking and enhance design of any architectural style. DryDeck was designed and engineered for high traffic use in the most demanding applications.
NexGEN DryDeck is rated for use in BAL FZ (Flame Zone) areas.
Technical
Very low maintenance: The marine-grade aluminium and powder coat finish requires no specific upkeep outside of periodic cleaning with soap and water.
Non-combustible: DryDeck will simply not ignite or burn.
Durable: DryDeck is impervious to insects and will not split, splinter, decay, crack or rot.
Cool to the touch: Aluminium's high thermal conductivity rapidly dissipates heat, creating a cooler surface than most traditional types of decking.
Family friendly: No harmful chemicals yet easy to clean and stain resistant.
Waterproof: DryDeck's unique design creates a dry space beneath the deck suitable for storage or alfresco if used on a balcony or similar.
Material: 6005-T5 Aluminium. 35,000 psi Yield Strength
Size: 152mm deck board width, 25mm thick, and 5.0 metre standard decking lengths. Available in longer lengths by special order.
Granite
Artisan Clay
Sandstone
Please note: that the colours provided are a guide only and have been matched as closely as possible
Coatings: Finish: Salt Spray Resistance, Outdoor Exposure, Colour Retention
1000 Hour Salt Fog Test performed on ACQ Treated Lumber with No Effects
DO YOU WANT A
FREE SAMPLE PACK?
Can't decide on a colour?
Fill out the form, and we'll express post your free samples box of our composite decking boards to you ASAP!
LET'S GET STARTED
ON YOUR PROJECT
Contact us to kick things off. This will be more fun than you think!